WHAT: Thorpe Park Fright Nights
WHEN: 5 & 6, 11-13, 18-20, 25-31 October; 1-3 November
WHERE: Thorpe Park (Staines Road, Chertsey, Surrey, KT16 8PN)
PRICE: £25-50
OUR RATING: Chance It!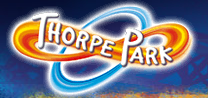 For a land as ancient as England, you'd expect Halloween to be celebrated with all the verve and finesse that Britain's Celtic forefathers most likely did, complete with ghoulish dances around fires and a fair few scares. Add to that the traditional place of the English ghost story within the horror canon, and you'd certainly expect there to be at least one haunted house. Alas, England doesn't do Halloween to the epic proportions of America or Ireland. But Thorpe Park Fright Nights offers you something that you can't get elsewhere near to London: horror, terror and torture in the spirit of the season – what a welcome surprise!
Adam: A word of warning – fear is an emotion that you will learn to appreciate at Fright Nights. I've been to plenty of haunted houses, mazes and the like across America, but I've never been to a haunted theme park. Just think about that for a second – a theme park. That means all the nice, candy floss wielding attendants are replaced by satanic counterparts and the screams of patrons are not heard because of excitement, but instead out of sheer terror.
Four live-action horror mazes are the stars of the show – each one stemming from the deranged minds of Lionsgate screenwriters – along with a scare zone and a wandering band of maniacs (guess what, you're next!) Five iconic horror films are represented in the attractions: The Cabin in the Woods, Saw, My Bloody Valentine, The Blair Witch Project, and You're Next, with the addition of The Asylum for spookier measure.
In all honesty, I have absolute respect for the amount of work put into doing the Park up for the Halloween season. However, the attractions themselves were a mixed bag, although I think this is mainly because I've been spoilt rotten by years of different haunts in the States.
Our first experience was The Cabin in the Woods, and after progressing through the ever-darkening queue (for 45 minutes), you are ushered inside. A choice of doors is presented to you, and that choice seems to determine which rooms you progress through. Although hoping for the said Dolls Room and the Facility advertised in the literature, we unfortunately must have missed them. We are not sure if this is because the choice of door renders different scenarios, although seeing other people from the line who entered other doors soon after suggests to us that this might not be the case. Unfortunately, The Cabin in the Woods, while using some killer special effects (I won't spoil it for you), fails to deliver the full package, perhaps because its concept is rather broad (have you seen the film?!).
Moving ever forward, we lined up for Saw Alive, and proceeded to queue for around an hour through a crisscrossing maze of razor-wire and dismembered mannequins. This haunt definitely fit the more traditional bill. Jump-scares, gross-outs and a whole lot of strobe, Saw Alive is well-produced and the actors are genuinely scary. In fact, it all comes to an end too soon (about 5 minutes later) as you are disgorged back into the night air of the park.
As for My Bloody Valentine, hospitals, blood and darkness pervade – but I say too much, you will have to see for yourself…
Alicia: Although my home town is not so far from a Six Flags, I have never had the privilege of attending their Fright Fest back in the States. But when I heard of Fright Nights at Thorpe Park, I felt it was time to see what a haunted theme park could do. And the four live-action horror mazes on offer do provide one thing that no haunted house I've ever been to does: the experience of being touched by the actors. This is definitely a level of real-life horror that really gives a haunted attraction extra pizzaz.
In addition to Cabin in the Woods and Saw Alive, we also experienced Thorpe Park's The Asylum, returning once again after previous success at the park. Enter if you dare into an asylum filled with white walls scrawled with blood and endless mirrors and flashing lights serving to disorient even the bravest of souls. This attraction was perhaps best for the actors' use of space, with the characters knowing exactly which direction to come from (and this sometimes meant from above!). Truth be told, the experience seemed a little one-noted, but the set-up of the rooms and the movement of the characters definitely created the crazy and horrifying asylum promised. Although the wait time was approximately 45-minutes for us, the 5-7 minute maze was worth it.
Due to long queues, along with the fact that we got a little lost in the park due to limited signage, we were unable to make it to The Blair Witch Project before the park closed. In the Blair Witch Project, visitors follow pathways through the dark woods as they hunt for the Blair Witch. I'm rather disappointed we didn't have the opportunity to attempt this live-action event, as it sounds like a thrilling reinvention of the classic movie.
For You're Next, Thorpe Park released hordes of terrifying creatures into the park who wander bemasked, striking fear into the hearts of all unsuspecting victims. Unfortunately, although we wandered the park for a good 5+ hours, we didn't once run into one of TP's creations. While this disappointed us, I guess we should consider ourselves lucky for surviving the night!
And speaking of getting lost in the park, although the signage was a let-down, the park staff were lovely and very helpful during our stay. One attendant even ran to get us a map and continued to give us precise directions for the best route to all the attractions from where we were standing. Super helpful, and greatly appreciated!
Final Thoughts: Thorpe Park Fright Nights are the perfect compliment to your pumpkin carving and horror film watching. While the live-action events are obviously a must, the general ambience of the park as a whole is chillingly thrilling. Closer to London than any other multi-attraction haunt, it is a perfectly solid event for introducing people to the genre that is the haunted attraction and thus is a blessing for the UK as a whole. For those of you who have been Stateside, it might appear a little different than to what you're used to – but we suggest you embrace the spirit of things. One more thing: if you can afford the fast past we'd highly recommend it to cut down on wait times, which can be exceedingly long.
P.S.: For a more serious take on hauntings, why not check out the Robinson Family Burial Ground and Robinson Preserve when you're next in Chicago.