The Boy Who Climbed Out of His Face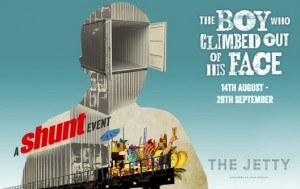 WHAT: The Boy Who Climbed Out of His Face
WHEN: 14 Aug-28 Sept, 2014
WHERE: The Jetty
(Greenwich Peninsula, SE10 0FL)
RUNTIME: 45 mins.
WHO: Shunt
PRICE: £10
OUR RATING: Do It!
There's big business in immersive theatre these days. With the rise of Punchdrunk and consequent rise of ticket prices, Shunt's The Boy Who Climbed Out of His Face provides the full, rich force of the immersive experience without the outrageous price tag. Beautifully poignant, unsettling and often funny, Shunt uses the space it has excellently and evokes many fantabulous vignettes, in which attention to detail is always evident and caring.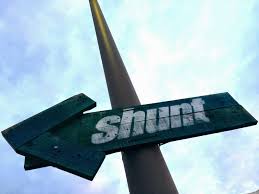 Adam: After walking some time from the North Greenwich DLR station and leaving behind the more obvious signs of life, I approached what is aptly described as The Jetty, a new riverside venue hosting Shunt, in the old Docklands area. It's very important that I don't spoil this incredibly special experience, but from the outset it is clear that clambering through disused shipping containers will be key to your journey.
As you venture deeper into the complex of containers, the bizarreness of the world becomes ever more brazen – highly detailed worlds emerge from the dark to get lost in, while characters top off the surrealism with psychologically challenging performances.
There is something funhouse about the whole performance and it is best experienced by those not afraid to dive in and get involved. Before you know it, the 45 minutes are up, as is the case with many immersive productions. Perhaps some would say it is just too short, but by concentrating their efforts to a confined space and definite vision Shunt creates a believably weird world – one which it was a pleasure to be a part of.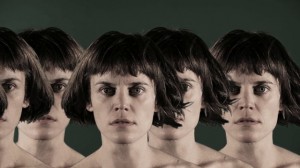 Alicia: Shunt has taken great pains to transform a series of shipping containers into a melange of beautifully absurd stories and environments, taking you outdoors, indoors and within minds all at the same time. It is obvious that a shipping container environment could provide some limitations to a theatre piece due to size constraints and a variety of other factors but this has not stopped this ambitious and risk-taking company in creating a masterful world. While the aesthetics of some of the rooms are breathtaking in their vision, it is really the characters who pull the whole piece together, inviting the audience to explore, consider and question. Again, I don't want to spoil too much of the show!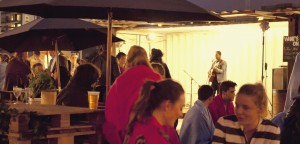 What makes this Shunt show a great experience is that the company invites you for a full night out. When you make your way to The Jetty you immediately step into a pop up BBQ and Cocktail bar complete with entertainment and live music to keep your blood pumping before and after the performance. Chef Matthew Baxter is the man of the hour here, producing sumptuous treats with anything from fish and chips to barbeque ribs and pulled pork. But really, the Long Island Iced Tea with a scoop of fresh coconut ice cream was the crème de la crème of the night.
It will be interesting to see what The Jetty next has in store in regards to pop-up and participative experiences – I'm sure we'll be back here again soon!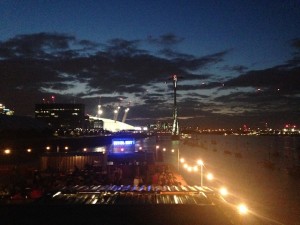 Final Thoughts: The Boy Who Climbed Out of His Face is your go-to show this month. For a tenner you can get great live music, explore the Greenwich Peninsula, and experience the peculiar and beautiful work Shunt is known for. Shoeless and vulnerable, we suggest you let Shunt guide you through this unique maze of adventure. And make sure to look out for our favorite bit in the last scene. Hint: it has batteries.