WHAT: Dragon Palace
WHERE: 207 Earl's Court Road, SW5 9AN
OUR RATING: Skip It!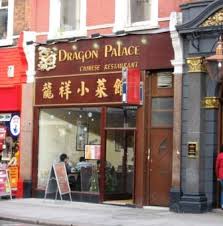 Earl's Court Road is home to numerous restaurants serving the local community, which includes a large contingent of tourists from the nearby hotels. One of those restaurants is Dragon Palace, purveyors of Chinese food. From the outside, you might think you were entering a middle-range well-presented eatery. But, be warned, there's more to Dragon Palace than this happy facade would like you to believe.
Adam: Those of you who have known me personally will be well aware of my penchant for the foods of the Orient, whether that be sushi roll or two or a kaeng khiao wan. So, needless to say I was eager to try Dragon Palace, notable for being outside the traditional Chinatown area.
As we entered the establishment, I could not help but feel that the further back we progressed the less of a palace it became. Glancing down at my cutlery, I noticed the requisite black chopsticks, which seemed rather elegant. This was immediately offset by the offering of paper napkins, which were out of place in such a "palace". The awkward lack of any music was notable. But, let's not judge them too quickly – onto the food!
Venturing beyond General Tsao's Chicken and the like, I chose to order their Chicken Steamed in a Lotus Leaf, which sounded appropriately exotic for my mood. Accompanied by shiitake mushrooms, red dates, ginger, and goji berries presented upon a lotus leaf, I expected a imperial treat. What came to my table would not have pleased a Son of Heaven.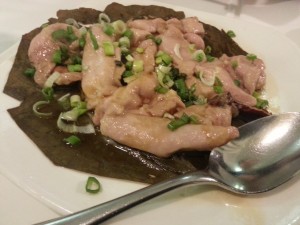 Lying, unloved and untended, morsels of chicken blandly stared back at me. Shiitake mushrooms: no. Ginger: no. Goji berries and red dates: few. This was a sorry state of affairs – I had been presented with a few pieces of chicken that seemed to have come from a frozen packet with practically nothing that could be considered a vegetable (apart from the lotus leaf, which was obviously for presentation purposes) and told that it was a meal. What was promised as being "full of flavour and goodness" was neither distinctive in taste nor possessing of any goodly quality. What a regrettable meal.
Alicia: The very fact that I am sitting here, a few minutes after getting home, cradling a tasty tea to cleanse my palate and willing my stomach to keep down my dinner is testament enough to the atrocity that was our Dragon Palace experience. And yet, while my stomach is violently rebelling the pigs' feed I have just ingested, it is also calling for some kind of sustenance, as the meagre portion I was able to choke down before pushing my plate away did less than fulfill my appetite after a day of saving up for a Chinese calorie intake.
Everything started off just fine as we surveyed the gigantic and reasonably affordable menu, with many dishes perfect for a shoestring budget. Our pupils dilated and our mouths watered as amazing-looking food was brought to near by tables, such as marvelous slabs of beef on top a bed of veggies or Chinese pancakes with finely shredded vegetables. The menu seems to accomodate most tastes, with a plethora of vegetarian options amongst a wide variety of proteins and carb dishes.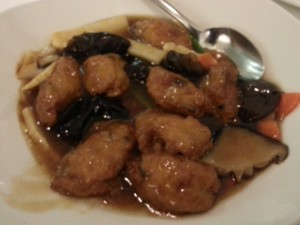 I was in the mood to venture a little bit out of my vegetable comfort territory, so opted for the Tofu, Prawn and Scallop Dumplings, suggested as being a mixture of tofu, diced straw mushrooms, prawns and scallops formed into dumplings and then stir fried with vegetables in an oyster sauce. What I got back was not a wide variety of vegetables, was not a beautiful display of perfectly steamed dumplings, and was most definitely not any type of seafood whatsoever. What arrived at our table and, unfortunately, on my tongue was a mess of fried tofu-esque egg-like vomit in a bed of sauce that may have well as just been a mixture of water, cornstarch and brown food dye along with a few mutilated pieces of bamboo, mushroom and peapod which very well looked like they were hacked to pieces by a blunt machete. Except for the natural flavor of the vegetables, there was absolutely no taste to the entire dish, and all I was left with was a terrible mushy texture of watered down and fried tofu that is now being rejected by my poor stomach.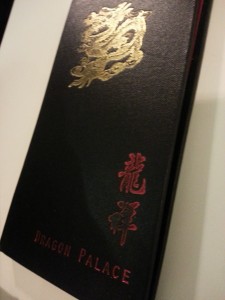 Final Thoughts: Dragon Palace seems to have a lot of loyal locals, and many of their dishes appeal to the eyes and the stomachs of other reviewers. But if we were so unlucky to have two absolutely horrendous dishes and come home feeling sick, is it really worth the risk? We say absolutely not. Stay far, far away and your body will thank you. Dragon Palace is not worthy of your time or money. It is designed to disappoint and comprises of uninteresting food, boring decor and inflated prices. Our advice: stick to Chinatown.
P.S.: Our fortune cookies read, respectively:
"Someone is speaking well of you" and "those who care will make the effort". We can only surmise from this that Dragon Palace's grasp of the future is, given this review, as inadequate as their dishes.