WHAT: London, Underground
WHEN: February 28 & March 1, 2014 (10:30pm-3am)
WHERE: The Vaults, Waterloo (Leake Street, SE1 7NN)
WHO: The nabokov Arts Club
PRICE: £15 (Advance) – £18 (Door)
OUR RATING: Do It!
Welcome to VAULT, a six week festival of arts and entertainment (Jan 28 – Mar 8) produced by the Heritage Arts Company in the labyrinth of tunnels and caverns underneath Waterloo Station. And then there's Vault LATES, late night events Thu-Sat that vary anywhere from silent discos to burlesque debauchery and even some Mardi Gras celebrations.
Storefront City helped The nabokov Arts Club celebrate their 5th Birthday at VAULT Festival last night at London, Underground, a two-night extravaganza of live art. You can celebrate too if you get down underground tonight beneath Waterloo Station. It's time to explore!
Adam: Lights string into the depths of the passageways that make up the vast edifice which is The Vaults. Striking out into the the chaotic milieu of plays, live music and revellers, its easy to get lost in the fantasy world beneath the concrete of London's streets. Alternative, yet not threatening, London, Underground provided a veritable playground for the artistic spirit within all of us. The heads of Guardsmen with neon skin tones give you a royal honour guard whenever you walk the main hall, whilst innumerable clouds waft overhead in The Light Bar. Smaller venue alcoves line the tunnel, so go ahead and take your pick!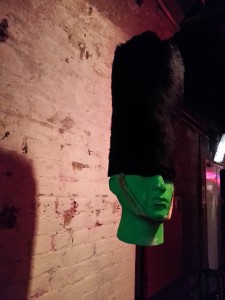 Starting with "The Pit", the first alcove to your left upon entry, I was delighted to be treated to two plays. First up was Plums by Luke Barnes, which brings you the story of two lovers whose hidden secrets are both touching and disturbing. This was followed up by This Isn't A Thing, Right by Lolly Jones, a tale of sexual comfortability, longing and luck. While very well received by the audience (Lolly Jones is currently a viral video star), I didn't connect with the piece as well as I would have liked.
Unfortunately, we missed the headline act, 3RUN vs Bellatrix, an immersive free running and beatbox experience, which was very disappointing. This is due mainly to signage within The Vaults, which was few and far between, with Storefront City only discovering the small runsheet once the headline performance was over. Perhaps this is in keeping with The Vaults eclectic and immersive styling, but further signage and direction in future would be helpful.
Alicia: Live theatre, music, cabaret, comedy, poetry and visual art explode underground, all mashed together in an extreme balance of intimate performance and all-out party. If you don't feel like sitting down and watching one of the many live performances and instead want to take advantage of a wild and crazy weekend night, enter The Light Bar for all your live music needs. Earlier on in the night you can get low with Dizraeli & Downlow's hip-hop set, or later you can experience live funk, ska, dub and hip hop from King Porter Stomp, an 8 piece blend of horns, heavy bass and lyrics. As the night goes on and the party gets kicking, the whole venue sets its sights on the last act of the night, a DJ set by the Mystery Jets.
Yet the highlight of the night was Symphony, a collaboration with new writing company nabokov and playwrights Ella Hickson, Nick Payne and Tom Wells, which has been playing in The Vaults since Feb 18. Theatre meets live gig in The Cage with 3 short plays, a mix of stories told through music and spoken word, directed by Joe Murphy with music by Ed Gaughan, and with amazingly talented performances by Remy Beasley, Jack Brown, Iddon Jones and Adam Sopp.
The format is unique, yet inviting, with the audience ushered into a room of musicians. But when the door closes behind you, the simple gig transforms a fusion of plays and songs, an electric synthesis of mediums that mimics the varied talents and fluctuating roles of the four performers. We were drawn into all three of their pieces on the night (one of the reasons we missed out on 3RUN  and Bellatrix), including Jonesy by Tom Wells (a tumultuous and hilarious vignette of an asthmatic teenage boy in P.E.), A Love Song for the People of London by Ella Hickson (a tale of unrequited love and awkward meetings on public transport) and My Thoughts On Leaving You by Nick Payne (a story of relationships and mistakes, with the requisite amount of alcoholic declarations of love, sombreros and bathroom stall hookups). If I wouldn't have known the background to the performance, I would have assumed this quartet had always been an ensemble and that the pieces were all created by them. The sets were amazingly cohesive, and the performances both charming and intoxicating.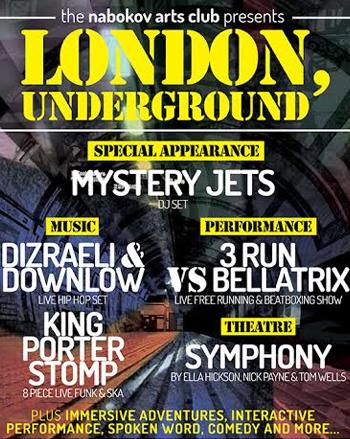 Final Thoughts: Awesome venue? Check! Live arts? Check! Fantastic night? Double Check! London, Underground is just the kind of event the city needs more of, so get there before it closes so you can be part of the experience.
P.S. Can't make London, Underground? Or perhaps the ticket price is a little steep for you? Not to worry! Tickets to other shows are as little as £7.50, and you can even stop by Tuesday and Wednesday nights for free live music and comedy.