Future Cinema presents 'Who Framed Roger Rabbit?'

WHAT: Who Framed Roger Rabbit
WHEN: February 14 – February 23, 2014
WHERE: The Troxy (490 Commercial Road, E1 0HX)
RUNTIME: 180 to 240 minutes
WHO: Future Cinema
PRICE: £34.30-47.10
OUR RATING: Do It!
Los Angeles. 1947. The sound of streetcars, jazz and big band. Hollywood.
Standing in a queue down a dark alleyway next to The Troxy, a stunning art deco building built in 1933, one is immediately transported through the decades to the 1940s, dressed elaborately in post-war fashion and buzzing with anticipation for a bit of swing dancing, a little big band, and a lot of…cartoons?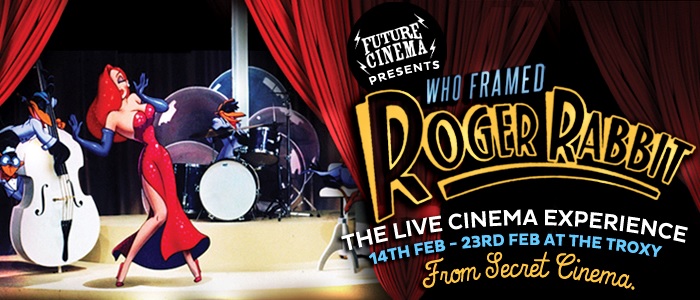 Future Cinema, a live events company that specialises in bringing the cinema experience to life in a fusion of performance, film, multimedia, design and a wealth of interactive encounters, brings Who Framed Roger Rabbit? to The Troxy stage, immersing audiences in the fantastical and comedic world where live action meets animation, and where private detective Eddie Valiant investigates a murder involving the famous (and hilarious) cartoon character, Roger Rabbit.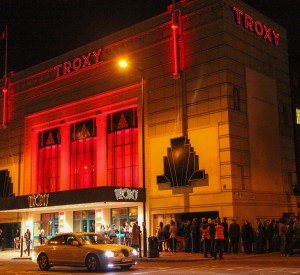 Alicia: Future Cinema has produced other shows at The Troxy, but Who Framed Roger Rabbit? really wouldn't belong anywhere else. It was a perfect representation of the film's Ink & Paint Club, which itself was a nod to the Harlem nightclub The Cotton Club, a famous go-to spot during the Prohibition Era. Today, the venue is used for anything from weddings to live music to sporting events, and is a drop-dead gorgeous spot for anything it hosts. If you think the place is lovely on the outside, your senses are overwhelmed by the majesty of the interior, with art deco fan carpeting, interiors of purple, turquoise and cream, massive chandeliers, sweeping staircases, and a general opulent decor that is magnified impressively with theatrical lighting. Walking in, you are struck with awe.
Before walking in however, the experience started with the Toon Patrol, Future Cinema's take on the crazy bullying weasels from the film, who roamed the alley interrogating the audience, clad in their colourful zoot suits and complete with maniacal laughter. Upon entering the club, you were even stopped by good ol' Bongo, the gorilla bouncer from the movie. Let's just say the password wasn't the famed 'Walt sent me,' but the interaction with Bongo is a riot.
The interactive experience continued throughout the night, from conversations with Marvin Acme, crazy antics from the penguin waitstaff, and a hilarious conversation I had with R. K. Maroon about not showing up Bugs in a new film we're making. I'm really not a fan of having conversations with actors in this kind of interactive experience (I like to be left alone and observe, usually), but I tried to let myself go and become one of the Hollywood elite, allowing myself to become immersed and becoming a character myself.
The tie-in to the film was even lovelier with cabaret acts reminiscent of those in the movie, such as the ever-necessary "Why Don't You Do Right?" by Jessica Rabbit herself and a marvelous rendition of "Hungarian Rhapsody (Dueling Pianos)". There was some odd talent outsourcing, where people from the audience were invited up as part of the talent show…which, in concept, was nice, but in execution was a little strange. Otherwise, this was a perfect manipulation of the Ink & Paint Club from the film, and really brought the entire experience to life in a whirl of fantastical comedy.
Adam: I must say that I entered Future Cinema's Who Framed Roger Rabbit? with a bit of trepidation. Would they be able to pull it off? I've been to immersive events before, from in-cinema cult classics to elaborately staged Punchdrunk. Some of the initial viewer reviews were less than positive – would this experience measure up? Thankfully, I'm pleased to say that I thoroughly enjoyed the entire experience, full of the gleeful fun the movie is so well known for.
Tables lined the repurposed Troxy, now the Ink & Paint Club, whilst actors roamed the venue, looking for newcomers on whom to try out their routines. Once we had seen the pre-show entertainment, the movie began in all its 1940s glory, whilst actors representing the famous characters occasionally picked up from the movie. You were literally in the club, with everyone from Eddie, to Roger to Jessica all around you.
Before the film is in full swing, you'll probably want to pick up some grub. A wide variety of offerings are available including French dips, pulled pork sandwiches, apple pie, carrot cake, mac and cheese and a carrot in a bun for all you rabbits out there. Be warned: the food and drink prices are steep when you take into account admission (French dip will cost you £7, whilst cocktails are £8). Still, one can take advantage of the numerous toppings and you can easily feed two people on a French dip if you are generous with your pickles, sauerkraut and red onions.
Once you've munched through your food and the movie is at an end, the whole club takes on a new atmosphere as tables are cleared and revelers move to the dance floor for some 40s-style clubbing. So get swinging and dance!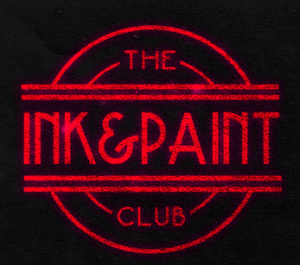 Final Thoughts: A new take on a classic movie, Future Cinema's Who Framed Roger Rabbit? is a unique experience that is unlike anything you've seen before. Although more highly priced than previous Future Cinema events, going with the right attitude gives you your money's worth. Be warned: seating is first come, first serve, so get there early and snag a table up front to avoid disappointment. And remember, '[Roger's] whole purpose in life is to make… people… laugh!" so laugh your heart out with the toons at this whimsical event.
P.S.: If you can't get over to The Troxy for this immersive event, pick up a copy of Who Framed Roger Rabbit? and see what all the fuss is about.